Probably you should check out the README if you care for much detail.
Caution this will overwrite any existing bash, vim, and other configuration that you have, in various places, e.g. .bashrc.
To bootstrap a new machine with this configuration:
which apt-get 

&&

 apt-get 

install 

git-core make python python2.7 

;


git clone https://github.com/samba/dotfiles.git 

&&

 

cd 

dotfiles 

&&

 make dotfiles

On a Mac you will need to install XCode first.
Additional usage
Possibly you may want one of these two modes:
make dotfiles  

# installs just the dotfiles


make apps      

# installs just the apps



For more options, try make help.
Settings Applied by these Dotfiles
A simple, colorful, and semantically expressive prompt
Lots of shell aliases, adding desired features (e.g. colored diff)
Some handy shortcuts functions, e.g. http, calc
Automatic handling of ssh-agent
Automatic inclusion of various PATH extensions and auto-completion
A screen config that leverages built-in features for usable experience
Suitable integration between these above (particularly bash, vim, and screen)
Automatic generation of an SSH key if needed
Some .ssh/config for compression and socket multiplexing
Some git aliases and usability improvements.
A Python usercustomize.py with a colored prompt
Lots of tweaks for macOS user experience
Note: a variety of macOS settings are automatically tuned during the apps phase. This process will terminate any running Chrome, Safari, and various other apps, due to actively changing settings. Unless the preferences file gets changed, this should only happen once.
Prompt Format
The command prompt this installs displays several components:
Timestamp colored by last command exit code
Background jobs
Working directory basename
Git status (if present)
Kubernetes cluster context (if present)
Short prompt on separate line, colored by last command exit code
Screenshot: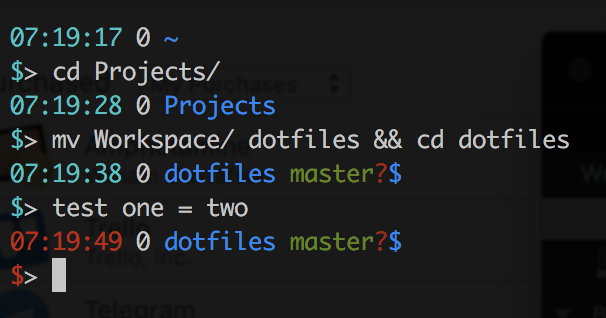 Vim configuration
Several important features for my workflow
Minimal use of third party plugins, but automatically installed where needed
Lots of filetype autodetection
Sensible tab/space controls
Line numbers
Code folding
A sensible netrw configuration for project/dir navigation
Autocompletion via ctrl-X omnifunc menu
Autocompletion toggled via \C
Buffer navigation shorthand (\n, \p)
Tab navigation: (\tn, \tp, \tex)
Comment flipping: \/
Makefile calls: \m
Various other shorthands…
More Apps from the AppStore
Additional tools I find useful…
Xcode (Note this is probably required first before this Makefile will work.)
Postico
Slack
Evernote
Skitch
Pocket
Kindle
Pixelmator
The Unarchiver
Emphetamine
Cinch
Trello
MindNode 5
LastPass